Focal Point Summer 2015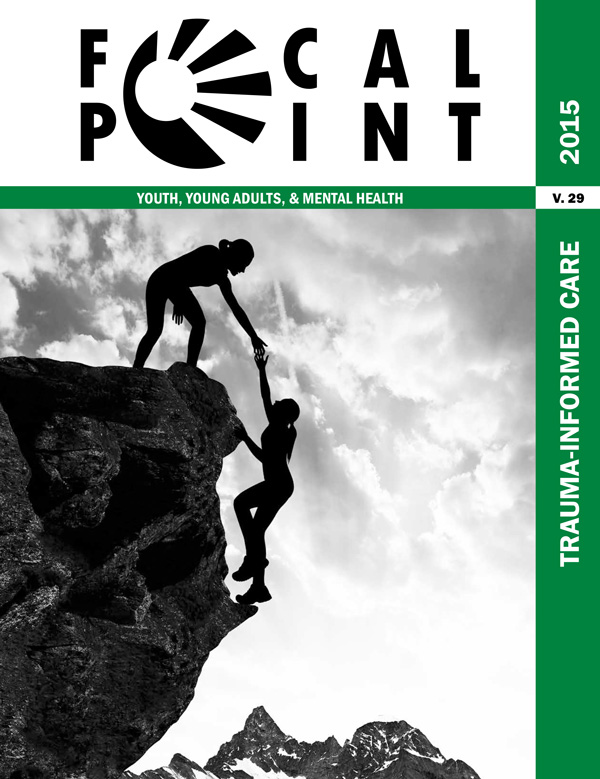 "Trauma–Informed Care" (2015), v.29
This issue of Focal Point focuses on trauma–informed care and its growing relevance in research, official policy, practice methods, and organizational structure.
Access Articles in this Issue
Introduction: Trauma–Informed Care

John D. Ossowski & Julie M. Rosenzweig

The introduction to this issue ofFocal Point highlights a variety of perspectives that examine the effects of trauma, the need for trauma–informed care, and how these methods can be incorporated into organizational culture and policy.

Healing Through Artistic Expressions of Trauma

Samantha Chudyk

A sexual assault survivor explains how the power of artful expression transformed her personal interpretation of trauma and enabled healing reflection through nonverbal communication.

Neurobiological Underpinnings for Trauma&Informed Care: A Primer

Julie M. Rosenzweig

This primer explains the neurobiological effects of toxic stress in the brain and the detrimental outcomes that psychological trauma can have on the development of both mental and physical health in young adults.

Data Trends: Can the Body Help Reduce Adolescents' Trauma Symptoms?

Jesse Homan

This segment of Data Trends describes how therapies involving sensory movement may help reduce the symptoms of trauma in youth who have been previously unsuccessful with traditional talk and symbolically–based therapies.

The Impact of Toxic Stress on the Developing Person: Becoming a Trauma–Informed Service Provider

Ajit N. Jetmalani

This article spotlights the influence of toxic stress on behavioral regulation and emphasizes the necessity of a trauma–informed relationship between young adults and their service providers.

When Age Doesn't Match Stage: Challenges and Considerations in Services for Transition–Age Youth with Histories of Developmental Trauma

Margaret E. Blaustein & Kristine M. Kinniburgh

This article examines the difficulties that transition–age youth with complex mental histories are poised to face without the life skills, long–term services, and supportive networks needed to function successfully in adulthood.

Through a Darker Lens: The Trauma of Racism in Communities of Color

Melanie Funchess

One mother describes her son's traumatic encounters with racism, biases, and racial profiling while seeking mental and physical health care services.

Trauma–Informed Method of Engagement (TIME) for Youth Advocacy

Debra Cady & Eric C. Lulow

This article expands on the need for trauma–informed collaboration with youth and their critical participation in planning, reforming, and implementing successful organizational services aimed towards young adults.

Creating the Conditions for Change: Emerging Policies to Promote and Support Trauma–Informed Care Policies

Diane K. Yatchmenoff

This piece analyzes the policies affecting trauma–informed care and their influence at the agency, program, employee, and practice level.

SAMHSA's Concept of Trauma and Guidance for a Trauma–Informed Approach in Youth Settings

Rebecca B. Flatow, Mary Blake, & Larke N. Huang

This article clarifies SAMHSA's approach to trauma–informed care and offers guidance for implementing a trauma–informed approach through key principles, philosophies, and procedures.

Creating Organizations that Address the Needs of Youth, Families, and Staff Who Have Experienced Trauma

Jane Halladay Goldman

Focal Point's final article provides an overview of trauma–informed methodologies and addresses the multiple domains, systematic approaches, and potential problems new organizations are advised to consider.