Focal Point Summer 2019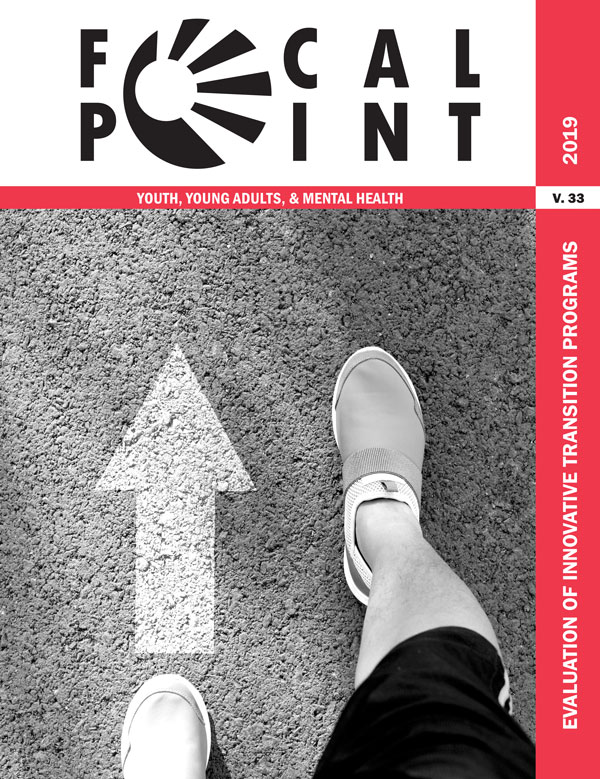 "Evaluation of Innovative Transition Programs" (2019), v.33
This issue of Focal Point explores the findings from the local evaluations conducted by Healthy Transitions grantees over the past 5 years as well as present evaluation findings from two other innovative programs for transition-aged youth and young adults. Taken together, the articles in this issue supply service providers and planners across the nation with an indication of the successful outcomes generated by a variety of program approaches.
Access Articles in this Issue
Introduction: Evaluation of Innovative Transition Programs

Nancy Koroloff & Eileen M. Brennan

This introduction provides an overview of the outcomes attained through the Healthy Transitions programs discussed in this issue.

YouForward: The Massachusetts Healthy Transitions Program

Alexis Henry, Jennie Fishman, Betsy Edes, & Susan Wing

The authors describe how Massachusetts' YouForward program uses Drop-In Centers as a low-barrier pathway to engage vulnerable, hard-to-reach young adults in needed services and supports.

Drop-In Centers and Local Collaboration Lead to Improved Housing Outcomes in Kentucky

Jeremiah Pope, Alex Tanner, Chithra Adams, William McPheeters, Anita Roper, Janice Johnston, Stephanie Sikes-Jones, Kate Tilton, & Beth M. Jordan

This article describes Kentucky's TAYLRD program and its use of Drop-In Centers along with a coordinated effort with local agencies to address high rates of homelessness among the youth and young adult population it serves in Louisville.

OYEAH: A Wraparound Community-Based Program for Transition-Aged Youth and Young Adults

Pnina Goldfarb

In this article, authors describe how Milwaukee's OYEAH program uses provider core competencies as a structure to help monitor the effectiveness of its Wraparound-based model for youth and young adults.

Preliminary Outcomes in CT STRONG: A Youth and Young Adult Wraparound Program

Eleni Rodis, Jennifer C. Donnelly, Karen Hensley, & Dawn Grodzki

Authors describe the mixed-methods evaluation approach used by Connecticut's CT STRONG program, and the measured improvement in mental health symptoms, perceived stigma, social connectedness, and empowerment among its participants.

Changes in Social Functioning in Delaware CORE

Adina Seidenfeld & Charles Webb

Delaware's CORE early intervention program serves 12–25 year olds with First Episode Psychosis or those at clinical high risk. The article describes study methods and measured changes in participants' social functioning.

Improving Life Trajectories: Outcomes from the Rhode Island Healthy Transitions Project

Shayna S. Bassett, Denise Achin, Bridget Bennett, Barbara Lamoureux, & L. A. R. Stein

This article describes how the RI Healthy Transitions Project utilized a coordinated specialty care-based model to improve social functioning and reduce troubling symptoms among young people experiencing First Episode Psychosis.

MindStrong and Emerge Models: Multidisciplinary, Feasible, Effective, and Sustainable

Vanessa V. Klodnick, Marc A. Fagan, Ariel Brenits, Sarah Gomez, Candy Malina, Eva Zeidner, & Jose Viruet

The authors describe Thresholds' approach to offering services for high-risk young adults while at the same time providing a coordinated specialty care team for young adults with First Episode Psychosis.

Wisconsin's Youth Empowered Solutions Monitors and Improves Participant Outcomes

Janae Goodrich, Robin Lecoanet, & Delaney Peterson

This article details how the YES! program team applied modified definitions of "positive outcomes" and "improved outcomes" to National Outcome Measures (NOMs) data, to more accurately measure young adults' situations.

Academic Supports and Outcomes: Maryland Healthy Transitions

Perrin Robinson, Megan Prass, Sylvia McCree-Huntley, & Sharon Hoover

The MD Healthy Transitions program focuses on academic supports for young people with emotional and behavioral disorders. Authors describe the program and the quantitative and qualitative findings on the program's outcomes.

Florida Healthy Transitions' Peer-to-Peer Service Delivery Model

Brittany DeFiore, Tyler Smith, Tajhah Kittling, Kiara Santiago, Tonicia Freeman-Foster, & Barbara Morrison-Rodriguez

Florida's Healthy Transitions team utilizes a peer-to-peer model to decrease program participants' mental health symptoms and increase their sense of community belonging. The article includes contributions from some of the young adults working in the program on the rewards and challenges of their work.