Upcoming Webinar: "Engaging Adolescents with Serious Mental Health Conditions in Treatment Planning: Findings from a Randomized Study of Achieve My Plan"
Date: Tuesday, January 24, 2017
Time: 10am – 11am PST / 1pm – 2pm EST

Wraparound is an intensive planning and care coordination process intended to improve outcomes for children, youth or young adults with the highest levels of mental health and related needs; however, previous research indicates that young people are often not meaningfully engaged in the process. This webinar describes a randomized study demonstrating that young people's engagement and team alliance can be significantly increased through the use of a modest enhancement.
---
New Tip Sheet on Cross-System Collaboration
A new tip sheet from the PTTP project titled "Achieving Cross-System Collaboration to Support Young People in the Transition Years: A Tip Sheet for Service Providers" advises service providers on how to reach across fragmented services and systems to assist young people to achieve their goals.
---
EASA Connections Investigator Meets with Executive Director of Orygen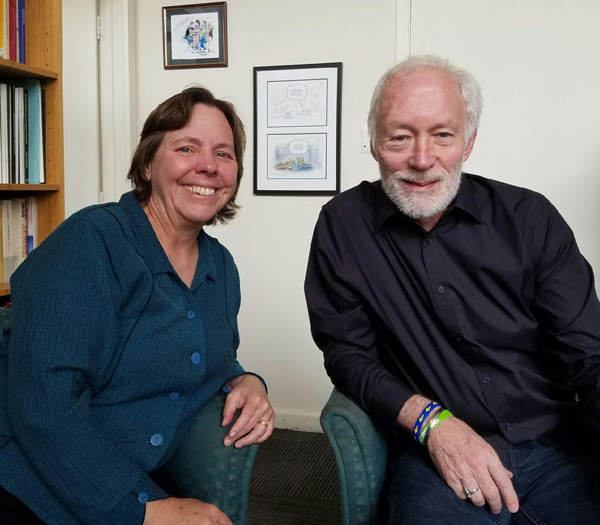 Tamara Sale (EASA Connections) recently met with Patrick McGorry, Professor of Youth Mental Health and Executive Director of Orygen, the National Centre of Excellence in Youth Mental Health, Australia. Prof. McGorry recently wrote an article for Focal Point 2016: Early Psychosis Interventions.
Read Pat McGorry's Focal Point article (PDF) »
---
Advice to Young Adults from Young Adults: Helpful Hints for Policy Change in the Mental Health System
This new tip sheet on policy change from the S/PAC project is designed for use by youth and young adult led organizations that include young people with lived experience in the mental health system in their membership.
---
Learning Community Webinar Recording
Tamara Sale (Project EASA Connections) recently participated in a Learning Community webinar hosted by FREDLA on the Role of Family-Run Organizations in responding to Early Psychosis. A recording of the webinar is now available.
---
Tip Sheet: Helping Young Adults from Foster Care Succeed in College
This tip sheet from Pathways' FUTURES project addresses issues that can hinder young adults in their efforts to attend or succeed in college. The tip sheet offers strategies to college faculty and staff to support students from foster care to overcome these issues.
Download the tip sheet (PDF) »
---
Tip Sheet: AMP's Top Ten Tips for Engaging with Young People
This tip sheet from Pathways' AMP+ project advises service providers and others how to engage successfully with youth, using specific examples to illustrate effective (and ineffective) communication.
Download the tip sheet (PDF) »
---
Program Directory of Early Psychosis Intervention Programs
This directory from the EASA Center for Excellence is a collection of information about early intervention programs for psychosis within the U.S. It aims to help people find resources in their communities and to facilitate a communicated network among these programs.
Download the directory (PDF) »
---
New Spanish Translations of Two Popular Pathways Publications
The Pathways publications "What Do You Want to Be when You Grow Up?" and "Things People Never Told Me" are now available in Spanish. "¿Qué Quieres Ser Cuando Crezcas?" offers young adults with serious mental health conditions guidance on career research. "Cosas Que la Gente Nunca Me Dijo" offers advice regarding finances, relationships, education, and employment to young people in foster care making the transition to adulthood.
Download Cosas Que la Gente Nunca Me Dijo »