JBHSR Special Issue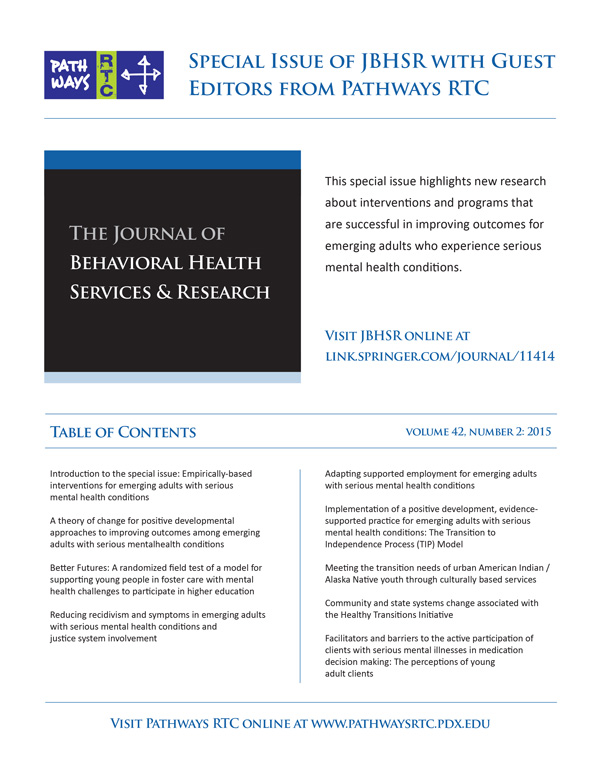 A Special Issue of the Journal of Behavioral Health Services & Research (Volume 42, Number 2: 2015) with Guest Editors from Pathways RTC, and additional issue articles
This special issue highlights new research about interventions and programs that are successful in improving outcomes for emerging adults who experience serious mental health conditions. Articles from this issue, as well as select overflow articles, are available in full text as author's manuscripts as noted below.
Individual Articles Available in Full Text
Introduction to the special issue: Empirically-based interventions for emerging adults with serious mental health conditions

Janet S. Walker, PhD, Eileen M. Brennan, PhD, Pauline Jivanjee, PhD, Nancy Koroloff, PhD, & Celeste L. Moser, MS

This introduction to the special issue describes each subsequent article's contribution to the discussion on new research in the field of emerging adult mental health.

Introduction to the special section: Positive developmental strategies for engaging emerging adults and improving outcomes

Janet S. Walker, Celeste L. Seibel, & John D. Ossowski

This introduction to the overflow section of the special issue describes each subsequent article's contribution to the discussion on diverse strategies that are being used to develop and evaluate interventions that include features of the positive developmental approach and that are designed specifically to improve outcomes for emerging adults with SMHCs.

A theory of change for positive developmental approaches to improving outcomes among emerging adults with serious mental health conditions

Janet S. Walker, PhD

Recent evidence attests to the shortcomings of typical services for improving outcomes among emerging adults with serious mental health conditions (SMHCs). Researchers and providers have responded by developing new programs and interventions for meeting the unique needs of these young people. A significant number of these programs and interventions can be described as taking a positive developmental approach, which is informed by a combination of theoretical sources, including theories of positive development, self-determination, ecological systems, and social capital. To date, however, there has been no comprehensive theoretical statement describing how or why positive change should occur as a result of using a positive developmental approach when intervening with this population. The goal of this article is to propose a general model that "backfills" a theory behind what appears to be an effective and increasingly popular approach to improving outcomes among emerging adults with SMHCs.

Better Futures: A randomized field test of a model for supporting young people in foster care with mental health challenges to participate in higher education

Sarah Geenen, PhD, Laurie E. Powers, PhD, Lee Ann Phillips, MSW, May Nelson, MSW, Jessica McKenna, Nichole Winges-Yanez, MSW, ...Paul Swank, PhD

The purpose of the study was to conduct a preliminary efficacy evaluation of the Better Futures model, which is focused on improving the postsecondary preparation and participation of youth in foster care with mental health challenges. Sixty-seven youth were randomized to either a control group that received typical services or an intervention group, which involved participation in a Summer Institute, individual peer coaching, and mentoring workshops. Findings indicate significant gains for the intervention group on measures of postsecondary participation, postsecondary and transition preparation, hope, self-determination, and mental health empowerment, as compared to the control group. Youth in the intervention group also showed positive trends in the areas of mental health recovery, quality of life, and high school completion. Implications for future research and practice are discussed, while emphasizing the capacities of youth in foster care with mental health conditions to successfully prepare for and participate fully in high education.

Meeting the transition needs of urban American Indian / Alaska Native youth through culturally based services

Barbara J. Friesen, PhD, Terry L. Cross, MSW, Pauline Jivanjee, PhD, Ashley Thirstrup, BA, Abby Bandurraga, MSW, L. K. Gowen, PhD, EdM, & Jen Rountree, PhD

This article reports findings from three qualitative studies exploring supports for positive transitions of American Indian/Alaska Native (AI/AN) youth to adulthood. Community-based participatory methods were employed through a research partnership involving a culturally based community agency, the Native American Youth and Family Center (NAYA), the National Indian Child Welfare Association, and Portland State University. Studies utilized a Relational Worldview (RWV) framework, where well-being is understood as a balance among the domains of mind, body, spirit, and context. Collectively, findings demonstrate that NAYA employs culturally grounded interventions to overcome the traumatic histories and current oppressive conditions affecting low-income urban AI/AN youth with mental health challenges and to support their well-being and transition to adulthood. In addition, addressing the mental health and well-being of AI/AN youth in culturally appropriate ways involves consideration of all RWV domains. Recommendations for behavioral health practice are to connect AI/AN youth to culturally specific services whenever possible, utilize cultural consultants, and implement holistic and positive approaches to mental health.

Community and state systems change associated with the Healthy Transitions Initiative

Janet S. Walker, PhD, Nancy Koroloff, PhD, & Shawn J. Mehess, BS

People engaged in efforts to improve services to emerging adults with serious mental health challenges have reached the conclusion that service change at the program or agency level is not sustainable without related changes at the systems or policy level. This article focuses on one set of efforts to create intentional system change at both the community and state levels. These changes were pursued by states and communities that received grants under the federally funded Healthy Transitions Initiative (HTI), with the aim of creating more effective services for emerging adults with serious mental health conditions. The article reviews the development of a measure to assess systems change efforts at the state and community levels and describes the findings that emerged when the measure was used to assess the change that occurred in the HTI sites over a period of approximately three and a half years.

Predicting positive education outcomes for emerging adults in mental health systems of care

Eileen M. Brennan, PhD, Peggy Nygren, PhD, Robert L. Stephens, PhD, & Adrienne Croskey, MSW

Emerging adults who receive services based on positive youth development models have shown an ability to shape their own life course to achieve positive goals. This paper reports secondary data analysis from the Longitudinal Child and Family Outcome Study including 248 culturally diverse youth ages 17 through 22 receiving mental health services in systems of care. After 12 months of services, school performance was positively related to youth ratings of school functioning and service participation and satisfaction. Regression analysis revealed ratings of young peoples' perceptions of school functioning, and their experience in services added to the significant prediction of satisfactory school performance, even controlling for sex and attendance. Finally, in addition to expected predictors, participation in planning their own services significantly predicted enrollment in higher education for those who finished high school. Findings suggest that programs and practices based on positive youth development approaches can improve educational outcomes for emerging adults.

Provider perspectives on principle-adherent practice in empirically supported interventions for emerging adults with serious mental health conditions

Janet S. Walker, PhD, & Katherin M. Flower, PhD

In recognition of the need to create new treatment approaches that will be appealing to and effective for emerging adults with serious mental health conditions, researchers have begun to create and evaluate programs and interventions that are specifically tailored to reflect the preferences and needs of the population. The literature that describes these new approaches – including both descriptions of interventions and guidelines based on expert consensus – expresses a high degree of agreement regarding practice principles that should guide intervention. However, beyond naming these principles, the literature provides little information about what the principles mean, or how principle-adherent practice can be recognized. This article describes a qualitative investigation of providers' understanding of principle-driven practice in the context of programs and interventions for emerging adults with serious mental health conditions. The goal was to learn about how providers conceptualize the principles that drive their practice, and how they describe principle-adherent practice.
Other Special Issue Articles Available from the JBHSR Website
Facilitators and barriers to the active participation of clients with serious mental illnesses in medication decision making: The perceptions of young adult clients

Jonathan Delman, PhD, JD, MPH, Jack A. Clark, PhD, Susan V. Eisen, PhD, & Victoria A. Parker, EdM, DBA

The active participation of young adults with serious mental illnesses (SMI) in making decisions about their psychotropic medications is beneficial to their care quality and overall health. Many however report not expressing treatment preferences to psychiatrists. Qualitative methods were used to interview 24 young adults with SMI about their experiences making medication decisions with their psychiatrists. An inductive analytic approach was taken to identifying conceptual themes in the transcripts. Respondents reported that the primary facilitators to active participation were the psychiatrist's openness to the client's perspective, the psychiatrist's availability outside of office hours, the support of other mental health providers, and personal growth and self-confidence of the young adults. The primary barriers to active participation reported were the resistance of the psychiatrist, the lack of time for consultations, and limited client self-efficacy. Young adults with SMI can be active participants in making decisions about their psychiatric treatment.

Reducing recidivism and symptoms in emerging adults with serious mental health conditions and justice system involvement

Maryann Davis, PhD, Ashli J. Sheidow, PhD, & Michael R. McCart, PhD

The peak years of offending in the general population and among those with serious mental health conditions (SMHC) are during emerging adulthood. There currently are no evidence-based interventions for reducing offending behavior among 18–21 year olds, with or without SMHC. This open trial examined outcomes from an adaptation of Multisystemic Therapy (MST), an effective juvenile recidivism reduction intervention, modified for use with emerging adults with SMHC and recent justice system involvement. MST for emerging adults (MST-EA) targets MH symptoms, recidivism, problem substance use, and young adult functional capacities. All study participants (n=41) were aged 17–20 and had a MH diagnosis and recent arrest or incarceration. Implementation outcomes indicated that MST-EA was delivered with strong fidelity, client satisfaction was high, and the majority of participants successfully completed the intervention. Research retention rates also were high. Pre-post-analyses revealed significant reductions in participants' MH symptoms, justice system involvement, and associations with antisocial peers.

Adapting supported employment for emerging adults with serious mental health conditions

Marsha L. Ellison, PhD, Vanessa V. Klodnick, LCSW, Gary R. Bond, PhD, Izabela M. Krzos, BA, Susan M. Kaiser, MPH, Marc A. Fagan, PsyD, & Maryann Davis, PhD

Effective services are needed to assist young people with serious mental health conditions to successfully transition to employment or education, especially among those with intensive adolescent mental health service utilization. To meet these needs, the Individual Placement and Support (IPS) model of supported employment was adapted and its feasibility was tested in a psychiatric treatment program for early-emerging adults. Participants were 17–20 years old (mean age=18.5 years). Most were African American, under the custody of the state, with a primary mood disorder diagnosis. Adaptations to IPS included adding the following: near age peer mentors, a supported education component, and a career development focus. This open trial feasibility study tracked the model's development, recruitment, and retention and tracked vocational and educational outcomes for 12 months. Model refinement resulted in the development of a separate educational specialist position, greater integration of the peer mentor with the vocational team, and further specification of the role of peer mentor. There was an 80% retention rate in the feasibility evaluation. Of the 35 participants, 49% started a job and/or enrolled in an education program over the 12-month period.

Implementation of a positive development, evidence supported practice for emerging adults with serious mental health conditions: The Transition to Independence Process (TIP) Model

Karyn Dresser, PhD, Hewitt B. Clark, PhD, BCBA & Nicole Deschênes, RN, M Ed

Transition into adulthood represents a particularly challenging period for youth and young adults with serious mental health conditions and related needs. The Transition to Independence Process (TIP) model is based on a positive development approach and has been demonstrated to be an evidence-supported practice for preparing emerging adults in their movement into employment/career, education, living situation, personal effectiveness/well-being, and community-life functioning – and to be responsive to their families. This article describes the TIP model from a positive youth development framework, its empirical underpinnings, and the fidelity and outcome tracking tools that have been developed for use with transition sites for implementation and sustainability. A research study on the fidelity tools showed their reliability and validity and a second study presents progress and outcome findings for youth and young adults at a new TIP model site. The implications of the TIP model and these findings are discussed.