Focal Point Winter 2006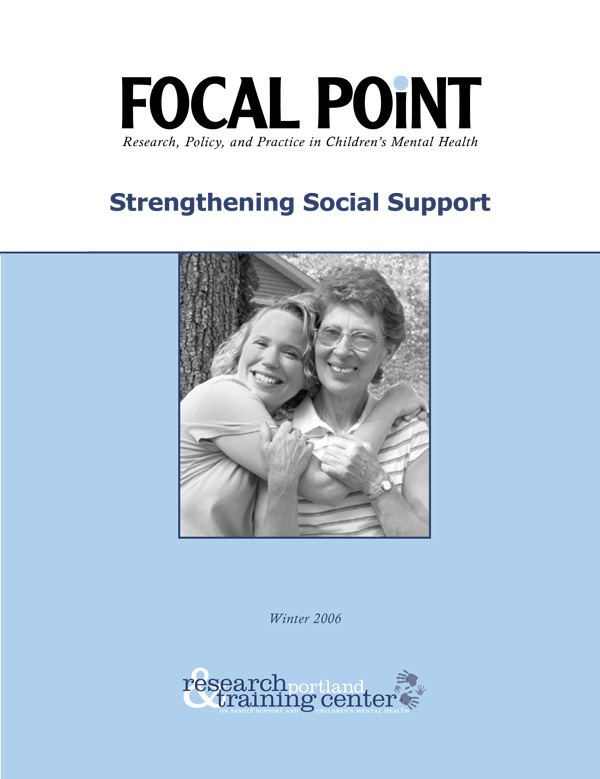 "Strengthening Social Support" (2006), v.20(1)
This issue of Focal Point discusses how social support can be harnessed to improve children's mental health. Articles in this issue define and recommend various methods of establishing and improving social support among families, mentors, and peers. Types of support examined include family–to–family support, wraparound, peer support, and natural support.
Access Articles in this Issue
Strengthening Social Support: Research Implications for Interventions in Children's Mental Health

Walker, J. S. & Sage, M.

Research indicates that social support can provide people with increased mental and physical well-being. This article reviews what is known, and what is not known, about whether and when support interventions are effective.

My Greatest Ally

Delano, C.

A young man recalls how his experience with wraparound during his adolescence helped his recovery. He discusses how wraparound provided him with listening friends and encouraged communication and support among his family members.

Building Family–to–Family Support Programs: Rationale, Goals, and Challenges

Ireys, H. & Sakwa, D.

This article describes the findings of a controlled trial of the Parent Connections program, a parent–to–parent support organization developed by a team of parents and researchers to meet the needs of low–income families with high–risk youth.

Unmasking Lena

Gladden, L.

Lena discusses her experience with Families Involved Together, a parent–to–parent support group. She notes the healing value in being able to impart what she had learned to other parents of children with special needs.

The "Keys for Networking": Targeted Parent Assistance

Adams, J., Westmoreland, E., Edwards, C., & Adams, S.

Keys for Networking is a Kansas organization that connects parents of children with emotional or behavioral problems to each other. The article conceptualizes parent involvement in Keys as a progression through 10 stages as parents engage with Keys, solve problems, and ultimately become advocates for children with special needs.

Techniques for Assessing Social Support

Armstrong, M.

Social support networks can be assessed using the formal and informal techniques outlined in this article, including creating eco-maps, Connectedness Diagrams, Social Network Maps, and more.

Social Support from Adults and Peers in Early Adolescence: It's a Balancing Act

Silverthorn, N. & DuBois, D.

A balance of social support from both peers and adults is important for achieving positive outcomes for adolescents. This article discusses research based on GirlPOWER, a mentoring program designed to help youth connect with positive older role models and each other.

Wraparound and Natural Supports: Common Practice Challenges and Promising Coaching Solutions

Dalder, G.

Natural supports are those friends, neighbors, and family members who provide families with nurturing and support without receiving compensation. This article suggests methods for recruiting and retaining natural supports that already exist but may not have been identified.

Natural Supports from a Parent Perspective

Dalder, G., Gordon, L., & Barnes, J.

This article illustrates how a mother and son engaged natural supports and improved their lives through involvement in the wraparound process.