Focal Point Summer 2014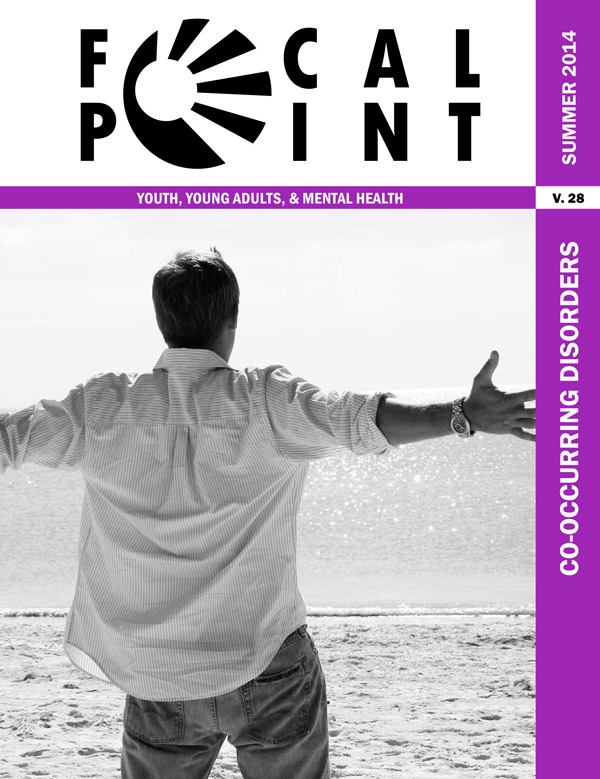 "Co–Occurring Disorders" (2014), v.28
Between one–third and one–half of young adults with mental health challenges have co-occurring substance use issues. This issue of Focal Point examines treatments and supports for this population.
Access Articles in this Issue
Introduction: Co–Occurring Disorders

L. Kris Gowen

This introduction examines the two main themes that emerge from the articles in this issue ofFocal Point: the need for formal and informal support, and for policies that support access to effective treatments.

Story of Triumph

E. M. Lofgren

A parent describes how her involvement in her daughter's treatment plan informed her daughter's journey from attempting suicide to leading a fulfilling life.

A New Campus Culture: The Rise and Success of Collegiate Recovery Programs

Benjamin John Chin & Sarah Nerad

This article provides an overview of Collegiate Recovery Programs, which create services such as peer support and specialized housing on college campuses that promote abstinence from alcohol and other drugs.

Data Trends: Treating Young People with Co–Occurring Disorders: What Works?

Molly Oberweiser Kennedy & L. Kris Gowen

This Data Trends outlines the effectiveness of two programs designed to treat co–occurring disorders: cognitive behavioral therapy with motivational enhancement therapy, and 12–step programs.

What's in a Meme: Using Social Networking to Promote Strengths–Based Mental Health

Brittany Smith

Pathways' social media consultant tells how Pathways' December 2013 mental health meme contest created connections among youth participants.

Destruction and Deliverance: My Story

Milo Rymes

A young adult describes his recovery from childhood trauma and drug addiction to become a certified peer support specialist, youth advocate, and artist.

Helping Young People Get Treatment in Juvenile Justice and Beyond

Susan Richardson, Jim Carlton, Laura Nissen, Michael Dennis, & Kate Moritz

This article describes the methods and successes of the Reclaiming Futures program, which helps treat substance abuse and reduce recidivism among incarcerated young people.

Transition–Age Youth: A Parent Perspective

Shannon Crossbear

A parent offers her experiences and thoughts on supports, policies, and services that promote recovery and successful transitions to adulthood.

The Patient Protection and Affordable Care Act (ACA) and the Mental Health Parity and Addiction Equity Act (MHPAEA): Addressing Co–Occurring Substance Use Disorder Services for Transition–Aged Youth

Brigitte Manteuffel

This article enumerates ways in which the ACA and MHPAEA have the potential to improve access to and quality of services for youth and young adults with co–occurring disorders.

Data Trends: Disparities in Treatment for Substance Use Disorders and Co-Occurring Disorders in Ethnic/ Racial Minority Youth

Casadi "Khaki" Marino

This Data Trends describes research on disparities in access to and quality of treatment for co–occurring disorders among ethic/ racial minority youth.