Focal Point Summer 2013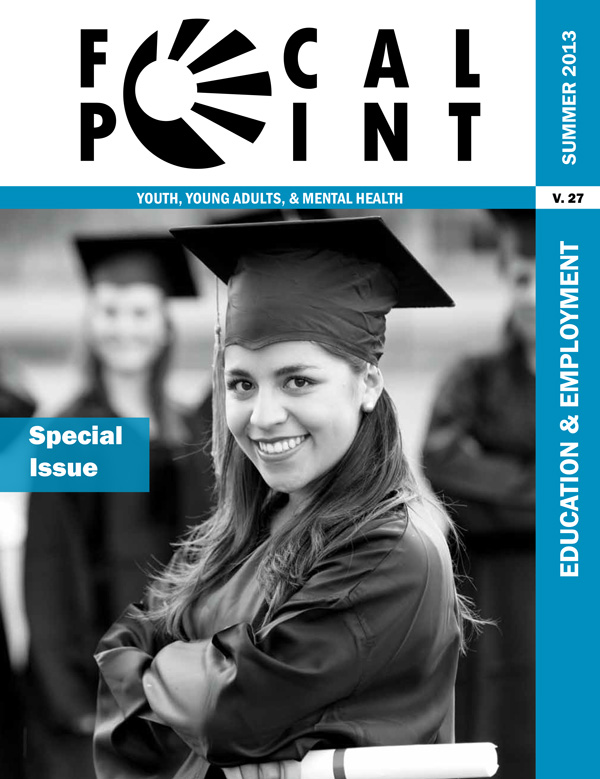 "Education & Employment" (2013), v.27
This special issue of Focal Point focuses on best practices for helping youth and young adults with mental health challenges reach their educational and employment goals, by highlighting preliminary results from some of our research at Pathways to Positive Futures as well as some of the work being done at the Transitions RTC at the University of Massachusetts.
Access Articles in this Issue
Introduction: Education & Employment

L. Kris Gowen

The editor ofFocal Point discusses the non-linear career paths common for many young adults as an introduction to articles that describe programs and practices that help young people attain their educational and career objectives.

Better Futures: Helping Young People in Foster Care with Mental Health Challenges Prepare for and Participate in Higher Education

Lee Ann Phillips, Shereen Oca, Sarah Geenen, & Laurie Powers

This article presents preliminary findings of the Better Futures Project at the Pathways Research and Training Center, which encourages youth with foster care and mental health systems experience to attend college through exposure to college campuses, near-peer support, and workshops.

Creating a Better Future

Jessica McKenna

A foster youth writes about how support from her family and her coach with the Better Futures Project helped her attend and succeed in college, where she is currently majoring in education and receiving straight A's.

Employment, Careers, and Recovery for Young Adults

Charles Lidz, William Fisher, & Rosalie Torres Stone

This article argues for adapting employment service models such as Supported Employment to meet the needs of young adults with mental health conditions by replacing the immediate job placement requirement with lengthier training and education that are more likely to lead young people into independent, fulfilling careers and help them achieve mental health recovery.

Improving Educational Outcomes for Young People with Mental Health Disorders

Eileen Brennan, Peggy Nygren, & Robert Stephens

Research on high school students with emotional disturbance found better school attendance and engagement among those who received special education services at school and more culturally sensitive services in the treatment setting.

Opt4College: Learning Together to Improve Transition for Youth with Disabilities and Special Health Care Needs

Miriam Heyman, Nerlie Ogilus, Michelle Porche, & Myra Rosen-Reynoso

Participants who completed the Opt4College program, an online curriculum that educates youth on the practical considerations of pursuing higher education, reported developing greater self-advocacy skills and knowledge about sources of financial support as a result of the training.

Self-Determined Career Planning: The Career Visions Project

Jo-Ann Sowers

This article describes Career Visions, a project of the Pathways Research and Training Center that assists young people with mental health difficulties to work toward career goals by creating and implementing step-by-step plans with the help of a career guide.

Earning My Success: Working with the Career Visions Project

[Anonymous]

A young adult explains how the Career Visions Project helped her overcome barriers, become more comfortable with job interviews, become more self-determined, and eventually garner a full-time career and acceptance to graduate school.

Supported Education as a Vital Route to Competitive Employment

Jonathan Delman & Marsha Langer Ellison

This article advocates for combining the tenets of Supported Employment and Supported Education to help achieve better educational and employment outcomes for transition-age youth and young adults.

Learning to Make it Work: Employing Young Adults with Serious Mental Health Conditions

Kathryn Sabella & Lisa Smith

Managers at the Transitions RTC at the UMass Medical School discuss their experiences and strategies in providing leadership and support for young adults with mental health conditions employed at their Center.

Learning to Make it Work: The Young Adult Perspective

Maria, Lea, Maggie, & Ashley

Four young adults employed with the Transitions RTC at the UMass Medical School describe how they have succeeded in their positions through self-advocacy, personal ambition, and the support of the managerial staff.

Data Trends: Is Supported Employment Effective for Youth and Young Adults?

L. Kris Gowen

This Data Trends reviews a study that found that Supported Employment can be effective for young adults aged 25-30, but not for youth aged 18-24; possible explanations for the results are considered.

Serving Youth with Psychiatric Disabilities in Public Vocational Rehabilitation

Joe Marrone & Stephaine Taylor

This article discusses strategies that Vocational Rehabilitation agencies can use to better support youth and young adults with mental health conditions to achieve employment through their services.