Focal Point Summer 2011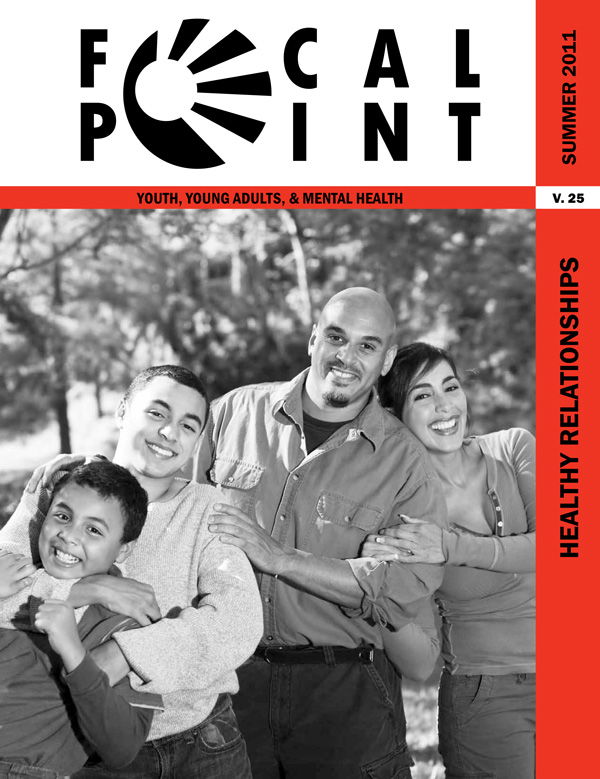 "Healthy Relationships" (2011), v.25
This issue of Focal Point is about Healthy Relationships and their effects on young adults with mental health conditions. While most of the articles focus on the positive aspects of relationships, others highlight more negative experiences and their impacts.
Access Articles in this Issue
Introduction: Healthy Relationships

L. Kris Gowen

The editor ofFocal Point defines "healthy relationships," explains their importance, and introduces each article within the context of this theme.

Getting Along: Youth and Family Views of Healthy Relationships in the Transition Years

Pauline Jivanjee & Jean M. Kruzich

This article reports on focus groups in which young adults with mental health conditions and their families shared how they balanced continued support with youths' increasing independence.

The Importance of Therapeutic Alliance for Transition–Aged Youth

Brittany Jordan–Arthur, Gabriela Romero, & Marc Karver

Building on the premise that a strong therapeutic alliance is vital to achieving positive life outcomes for youth receiving services, this article addresses factors that help and that hinder the effectiveness of relationships between youth and their therapists.

Three Views of Evolving Relationships in the Transition Years: A Mother and Two Siblings

Corinne Spiegel, Jasmine Spiegel, & Joel Spiegel

Three family members recount their experiences living with and supporting a young man with multiple diagnoses as he grew into adulthood.

A Story of Connecting

Lynn Twigg

A 28–year–old former foster child tells how reconnecting with her biological mother in adulthood helped to inform her personal identity.

How Mental Health Challenges Impact the Sexual and Relational Health of Young Adults

L. Kris Gowen

This article outlines what is known about the sexual and romantic relationships of young adults with serious mental health conditions and highlights the importance of engaging these youth in conversations about sexual and romantic relationships.

Data Trends: Associations Between Childhood Maltreatment and Young Adult Romantic Relationships: A Focus on Gender Differences

Celina Kishna & L. Kris Gowen

This Data Trends explains two recent studies' findings of associations between experiencing maltreatment in childhood and dating aggression and interpersonal problems in young adult romantic relationships, with a focus on gender differences.

Building Healthy Relationships with Your Medication and Medication Provider

Beckie Child

This article presents strategies to help consumers communicate effectively with their health care providers about medication options, and achieve overall treatment goals.

Key Helping Relationships Among Young Adults with Mood Disorders

Michelle Munson

Using data from interviews with young people, the author describes the roles that supportive people play in the lives of youth with mental health difficulties.

Data Trends: Being Treated Differently: Stigma Experiences of Adolescents with Mental Health Disorders

Aakrati Mathur

ThisData Trends presents research that examined youth perceptions of being treated "differently" by family members, peers, and school staff because of mental health problems.

Building an Online Community

Wesley Kittel

The implementation of a website created by and for young adults with mental health conditions is described by one of the website's key planners.