Focal Point Summer 2010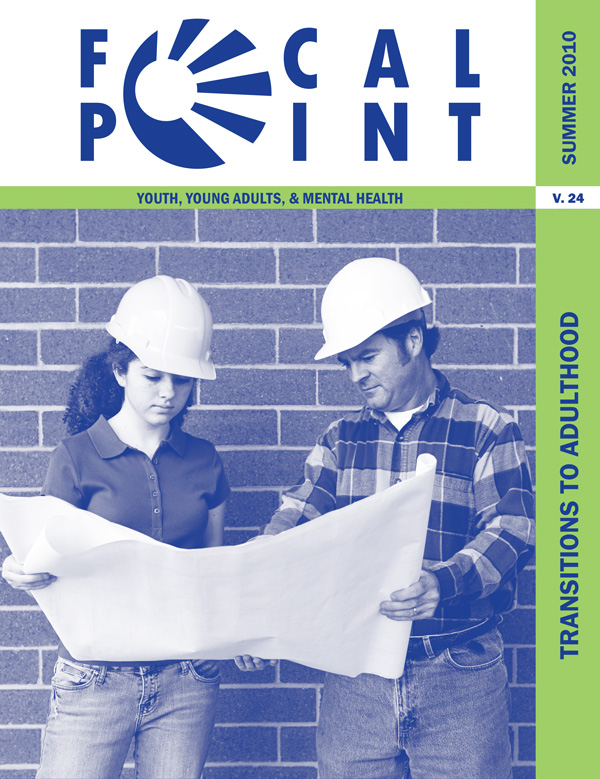 "Transitions to Adulthood" (2010), v.24
The articles included in this inaugural issue of the "new" Focal Point address "Transitions to Adulthood" from the perspectives of researchers, youth, family, and professionals. [This is the first issue of Focal Point as published by the Research and Training Center for Pathways to Positive Futures; previous issues had been published under the preceding RTC for Family Support and Children's Mental Health.]
Access Articles in this Issue
Introduction: Transitions to Adulthood

L. Kris Gowen & Janet S. Walker

This article introduces the "new"Focal Point and explains the shift in focus toward topics related to improving outcomes for youth and young adults with serious mental health conditions, and the concomitant transition in the mission and activities of the Research and Training Center at Portland State University.

Moving the Field of Transition Services Forward

Nancy Koroloff & Maryann Davis

Two of the directors of new Research and Training Centers focused on the transitions of youth and young adults with mental health conditions provide examples of current research in the transition field and give recommendations about synthesizing the information from this research to design effective interventions.

Is There a Developmentalist in the House? Using Developmental Theory to Understand the Service Needs of Emerging Adults

Jennifer Tanner

This article explains how recent advances in developmental theory can be applied to design policies and programs that help young people transition to adulthood in a way that befits their normative maturation processes and the realities of today's world.

Transitioning to Independence

Heidi Peircey

A young adult with bipolar disorder describes what independence means to her and the steps she has taken to become a responsible adult.

Transition–Aged Youth, Mental Health Challenges, and Survival Self–Reliance

Amy Salazar

This article describes how foster youth with different backgrounds and experiences navigate their transitions out of care, and the need to implement more targeted transition–related services in order to account for the diversity within this population.

Helping Youth Transition into Adulthood: A Parent's Perspective

Sandra Spencer

A parent reflects on her son's transition from child-serving systems to adult–serving systems, and how she supported his development into a self–advocate and a responsible young adult.

Data Trends: Supporting Transition–Aged Youth: One State's Efforts

L. Kris Gowen

This issue'sData Trends summarizes an evaluation of Connecticut's Young Adult Services Program, which was found to improve transition outcomes for young people with complex needs.

Young Adults Value Participation, Meaningful Employment, and Unconditional Caring

Bonny Saulnier, Melissa Goodman, & Sara Plachta–Elliott

This article describes the Tempo Young Adult Resource Center's "positive youth development approach" in offering youth–guided services to young people in Framingham, MA.

Transitioning Does Not Mean Escaping

Anonymous

A young adult tells about how medication and group therapy helped her overcome her symptoms of borderline personality disorder and enabled her to return to college.

Early Psychosis Intervention in Oregon: Building a Positive Future for this Generation

Tamara Sale & Ryan Melton

This article explains how the Early Assessment and Support Team of Oregon works to maintain normal life trajectories for young people with psychotic symptoms through early intervention, a variety of treatment options, and educational/employment counseling.

A Holistic Approach to Supporting the Transitions of High School Students with Emotional and Behavioral Disabilities

Cinda Johnson

This article describes the School–Wide Positive Behavioral Interventions and Supports system—a decision–making framework that has guided three Washington State high schools in the implementation of three different levels of support for students with emotional and behavioral disabilities.