Focal Point Summer 2009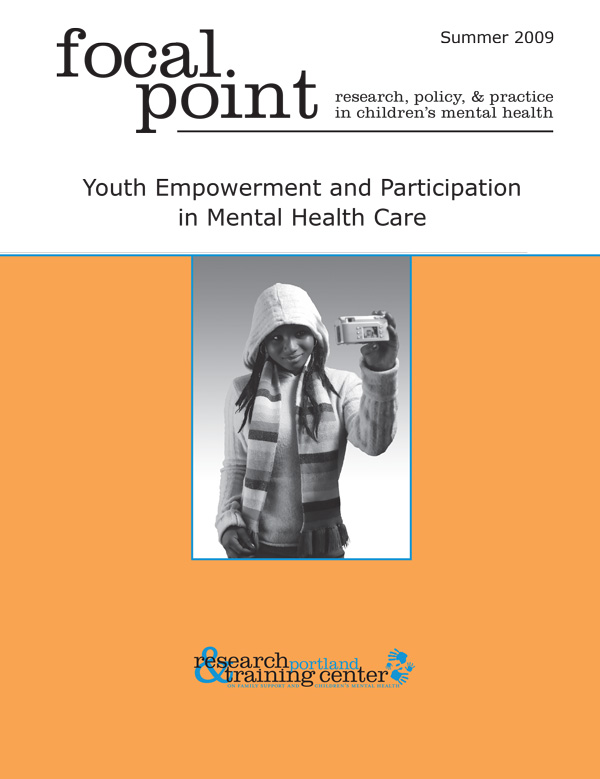 "Youth Empowerment and Participation in Mental Health Care" (2009), v.23(2)
This issue of Focal Point highlights a number of successful and innovative efforts to promote youth voice and youth empowerment. Many of the articles are authored by or include contributions from youth who are directly involved in the featured programs.
Access Articles in this Issue
Introduction: Youth empowerment and participation in mental health care

Gowen, L. K., & Walker, J. S.

This article discusses responses to an online survey that asked youth and adults their opinions about which changes in children's mental health care were most necessary.

Sacramento's LGBTQ youth: Youth–led participatory action research for mental health justice with Youth In Focus

Sanchez, J., Lomeli–Loibl, C., & Nelson, A. A.

This article provides an example of a youth–led participatory action research project that aimed to discover the needs of LGBTQ youth in Sacramento.

The Met Students' action research project with Youth In Focus

Barrick, C.

Students from The Met Sacramento Charter School partnered with Youth In Focus to create a successful, student–run resource center and store at their school.

Digital storytelling

Spagat, A., Damien, V., & Jones, M.

Three young people contribute their experiences with digital storytelling, a process in which youth create and share autobiographical stories using multimedia technologies. The young people describe how participating in the process of creating digital stories has contributed to their empowerment and healing.

Improving outcomes through interventions that increase youth empowerment and self–determination

Walker, J. S., Geenen, S., Thorne, E., & Powers, L. E.

This article describes two interventions, Achieve My Plan! and My Life, that help youth with mental health conditions actively engage and participate in planning for their future.

Developing a new intervention: Reflections of a youth advisor

Thorne, E., & Tanner, N.

Nathan tells how his experiences as a youth advisor for the Achieve My Plan! project helped increase his sense of empowerment and inspired him to consider a new career goal.

New measure of youth mental health empowerment

Walker, J. S.

This brief summary describes the Youth Efficacy / Empowerment Scale-Mental Health (YES–MH), a new measure designed to assess young people's confidence in their ability to manage their own mental health conditions and to influence mental health care systems.

Youth 'N Action: For youth, by youth!

Johnson, T., & Kruzich, J.

This article describes Youth 'N Action, a program in Washington State that helps youth to empower themselves through various advocacy efforts from the local to the national level.

Youth voice and participation on the National Youth Summit Advisory Board... and beyond

Strachan, R.

This article describes the formation of the National Youth Summit Advisory Board and the experiences of several of its members. The Board is organizing the National Summit, during which youth from around the nation will work together to identify areas for improvements in youth-serving systems.

Youth M.O.V.E. National: Youth as change agents

Yonder, C., Bergan, J., & Rariden, L.

This article details the history, philosophy, goals, and achievements of Youth M.O.V.E., a youth–led advocacy organization.

Peer mentoring: Real recovery for young adults

Butman, M.

The TRACS project of Massachusetts describes how its peer mentoring program has helped youth set and achieve goals, such as obtaining a driver's license, enrolling in classes, or obtaining employment.

My views on the peer model

Drakos, J.

Justin explains how being a peer mentor has benefited him socially and helped change how he views his own mental health treatment and recovery.

The two–way benefit of peer mentoring

Pepin, L.

Liz tells about her belief in the value of peer mentoring and why she credits her mentoring experience for much of her recovery in recent years.