Focal Point Summer 2004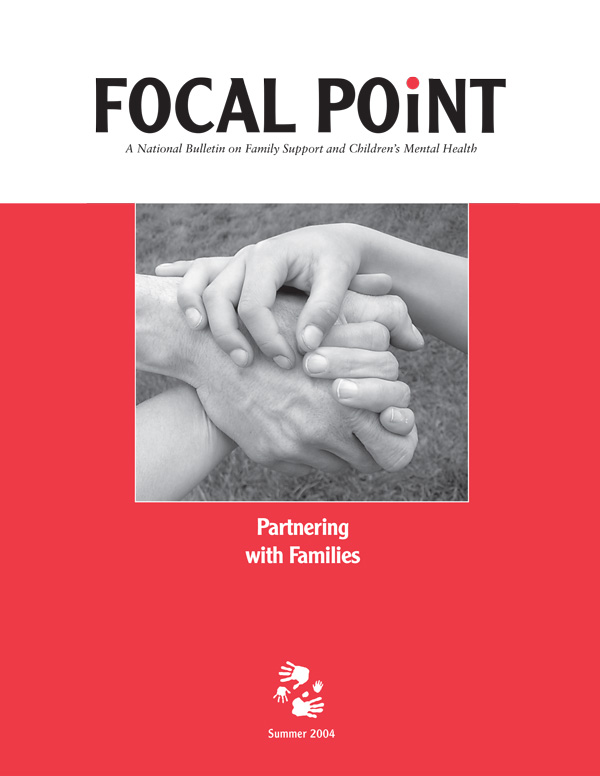 "Partnering with Families" (2004), v.18(1)
This issue highlights recent work at the Research and Training Center on Family Support and Children's Mental Health in Portland, Oregon. The Center's work is guided by a vision of family–professional partnership within systems of care serving children with emotional or behavioral disorders and their families.
Access Articles in this Issue
Partnering with Families

Walker, J. S. & Friesen, B. J.

This article describes how the Center's work has evolved over the years, yet all the while staying focused on the vision of family–professional partnership and collaboration.

Disclosure and Reciprocity: On the Job Strategies for Taking Care of Business and Family

Rosenzweig, J. M. & Huffstutter, K.

This article describes research that seeks to gather information about how parents' employment experiences are affected when they are caring for a child with a mental health disorder.

Getting Your Money's Worth: What Early Childhood Program Directors Should Know About Working with Mental Health Professionals

Green, B. L., Everhart, M. C. & Gordon, L. J.

This article reports on research that can help managers of early childhood education programs make informed choices about how to use program resources to get the most "bang for the buck" from mental health professionals.

Promoting Inclusion in Child Care Centers: Learning from Success

Bradley, J., Ama, S., Gettman, M. L. G., Brennan, E., & Kibera, P.

This article shares findings from research into strategies that promote inclusion of children with challenging behaviors into child care classes.

Underrepresented Researchers Mentoring Program: One Mentee's Story

Gettman, M. L. G.

The Center's mentoring program successfully encourages students of color, first generation college students, and students with disabilities to pursue an interest in research and to acquire a variety of research skills and experiences.

Team Practices to Increase Individualization in Wraparound

Walker, J. S.

This article describes the results of research that has focused on understanding how Wraparound team practices—i.e., specific kinds of skills, techniques, or procedures that team members use—are linked to desired outcomes in Wraparound.

Wraparound and Juvenile Justice: Making a Connection That Works

Kerbs, J., Gaylor, R., Pullmann, M., & Roe, P.

This article describes evaluation results from a successful juvenile justice–mental health collaboration to use Wraparound with juvenile offenders and their families.

Partnership in Evaluation: Training Implications

Jivanjee, P., Schutte, K., & Robinson, A.

This article focuses on research that was designed to build understanding of the training needs of evaluators participating on evaluation teams with family members.

Family Participation in Out–of–Home Treatment Settings: Challenges and Opportunities

Friesen, B.

This article reports on research focusing on family members' experiences when their children are in out–of–home care. Findings point to areas where the practices, programs, and policies of out–of–home services can be improved.