Focal Point Summer 2003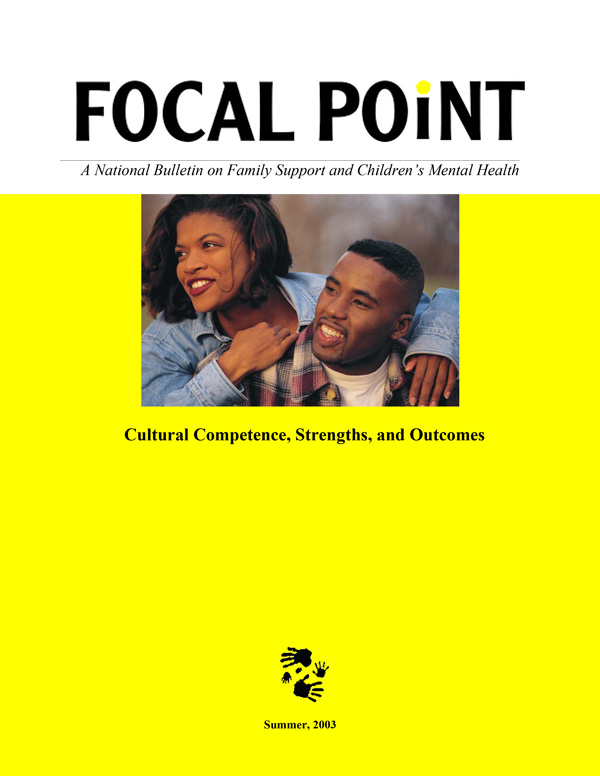 "Cultural Competence, Strengths, and Outcomes" (2003), v.17(1)
This issue of Focal Point offers insight on cultural reciprocity, clinical outcomes for diverse youth, culturally competent research practices for African-American communities, identifying behavioral strengths in Black children, and cultural competence in services.
Access Articles in this Issue
A Challenge to Professionals: Developing Cultural Reciprocity with Culturally Diverse Families

Kalyanpur, M.

Research indicates that many parents experience feelings of inadequacy and loss of control when dealing with schools in the process of ensuring an appropriate education for their child with special needs. These feelings may be particularly pronounced for parents from diverse cultural backgrounds. This article identifies some of these factors and describes strategies toward facilitating culturally reciprocal interactions in educational settings.

Youth Clinical Outcomes: Does Race/Ethnicity Matter?

Baker, M. J.

A growing emphasis on cultural competence in children's mental health has increased awareness of the need to tailor interventions and service delivery approaches to make them appropriate for children, youth, and families from different cultural groups. This article provides a review of research and an illustration of how much we have yet to learn about why race/ethnicity is associated with varying rates of service utilization and with differences in outcomes on standardized measures.

Implementing Culturally Competent Research Practices: Identifying Strengths of African–American Communities, Families, and Children

Briscoe, R., Smith, A. & McClain, G.

This article focuses on the methods and results of two research projects aimed at identifying strengths in African–American families and communities. The studies provided a strong foundation for identifying and supporting the development of a strengths–based approach with African–American children, families and communities.

Assessing Behavioral and Emotional Strengths in Black Children: A Measure Designed by and for Blacks

Lambert, M. C. & Rowan, G. T.

Despite our knowledge that strengths are an important foundation upon which intervention and prevention can be scaffolded, research and theory on Black children's strengths are extremely limited. This article describes the development of the Behavior Assessment for Children of African Heritage (BACAH), a strengths–based instrument designed by and for Blacks.

Cultural Competence in Services to Children and Families

Clowes, L.

What does cultural competence mean in the context of providing services and supports for children with severe emotional disturbances and their families? This article reports on some specific steps that are being taken in New Hampshire to increase the level of cultural competence in a system of care.