Focal Point Spring 2001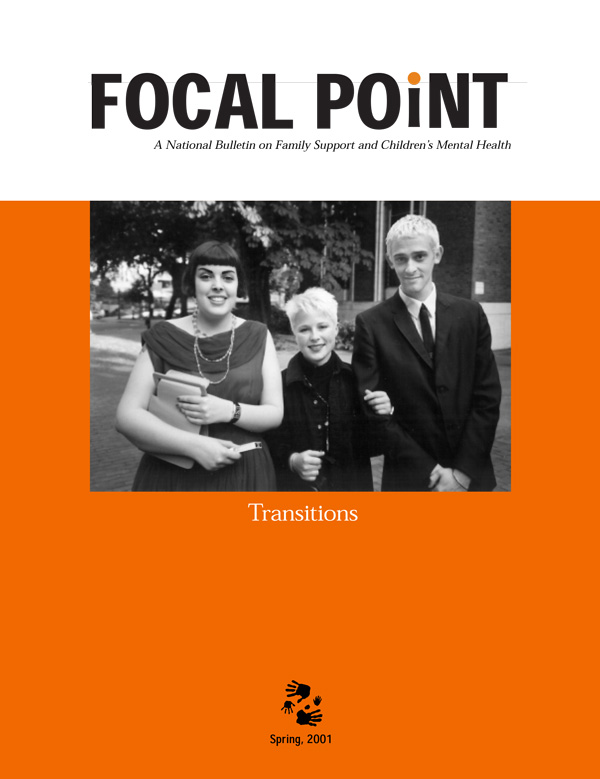 "Transitions for Children and Youth with Emotional and Behavioral Challenges" (2001), v.15(1)
This issue of Focal Point presents a variety of voices—the voices of young people and their family members, as well as the voices of researchers and service providers—discussing the topic of transition. The message that emerges from the articles in this issue: we continue to learn about how to make transitions more successful.
Access Articles in this Issue
Introduction: Transitions for Children and Youth with Emotional and Behavioral Challenges

Walker, J. S.

This editorial describes the common features of programs and practices that facilitate successful transitions for children with emotional and behavioral challenges.

We Are Compelled to Tell a Story

Van Anne, J.

This essay, by a mother and special educator, describes the difficult transition to kindergarten for her own son, a child with an emotional disability.

Early Childhood Transitions

Lehman, C., Friesen, B. & Brennan, E.

This article describes research on successful programs to support successful transition to kindergarten for children with emotional or behavioral difficulties. It also describes preliminary findings of an investigation of successful transition strategies.

Supporting Young Children with Mental Health Needs

Albright, L., Brown, S. & Kelly, D.M.

This article describes a successful intervention to support young children with mental health needs.

Transition Considerations for Families on the Move

Mitchell, B.

This article reviews the needs of homeless families of children with emotional and behavioral challenges, and describes strategies for reaching out to these families to help address their needs.

Continuity of Mental Health Care for Young Adults

Polgar, M. & Cabassa, L.

This article describes the results of a study of the organizations that supply care for youth with mental health concerns. The focus of the research is on understanding the continuity (or discontinuity) of care for youth transitioning to adulthood.

Surviving the Transition to High School: Understanding and Teamwork Go a Long Way to Help

Caplan, J.

This first–person essay, by a young man with mental health challenges, focuses on the various supports that helped him make a successful transition to high school.

Best Practices in Transition Programs for Youth with Emotional and Behavioral Difficulties

Deschenes, N. & Clark, H.B.

This article provides an overview of the complex challenge of transition to adult roles for children with emotional and behavioral difficulties. The article goes on to identify guidelines for best practices in transition programs.

Transitioning from Residential Treatment: Family Involvement and Helpful Supports

Ogilvie, M.

This article summarizes the research base on transition from residential treatment back to the community. Research shows better transition and improved outcomes for children who maintain a strong relationship with their families and community.

Straining the Ties that Bind: Limits on Parent–Child Contact in Out–of–Home Care

Friesen, B., Kruzich, J. M., Robinson, A., Jivanjee, P., Pullmann, M. & Bowles, C.

This article reports on a survey examining limitations that were placed on parent child-contact when the child was placed in residential care. Eighty–three percent of parents reported that their contact with their children had been limited; and 59% reported that contact was contingent on the child's behavior.

Transition Services for Youth in the Juvenile Justice System

Griller–Clark, H.

This article outlines some challenges facing correctional employees and educators in providing transition services to youth with disabilities within the juvenile justice system. A successful transition program in Arizona is described, and the article concludes with a listing of promising practices.

The Human Face of Foster Care in America

Harrak, T., Ama, S. & Caplan, E.

This article describes the evolution and passage of the federal Act that authorized the Chafee Independence Program, a program designed to help foster youth better negotiate the transition to independent living.

Powerhouse: Empowering Young Adults as They Transition from Foster Care

O'Dell, K., Alba, L., Lehman, C., Mayer, J. & Hein, M.

This article describes Powerhouse, a program that supports youth transitioning from foster care. Powerhouse provides assistance with coordination of services including houseing, education, career development and training, employment, and health and mental health. The program seeks to support youth as they gain skills for independent living.