Focal Point Fall 2002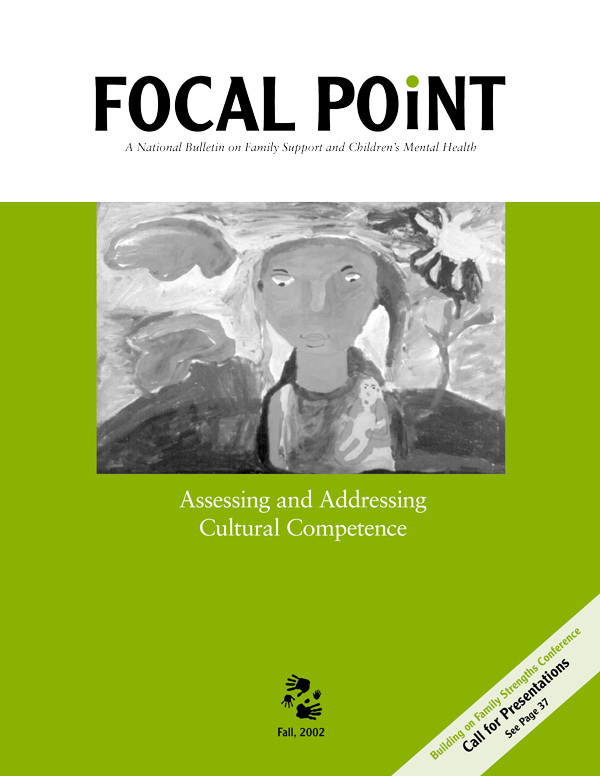 "Assessing and Addressing Cultural Competence" (2002), v.16(2)
The articles in this issue describe a variety of strategies communities have used to systematically engage the perspectives of family and community members. With these strategies in place, family and community members have the opportunity to play a central role in making and monitoring concrete action plans for increasing cultural competence.
Access Articles in this Issue
Introduction: Assessing and Addressing Cultural Competence in Systems of Care

Walker, J. S.

This editorial reviews how the understanding of cultural competence in children's mental health has evolved in the past 15 years.

Reflecting on Cultural Competence: A Need for Renewed Urgency

Huang, L. N.

This article reviews indicators pointing to an urgent and continued need for increasing cultural competence in children's mental health, juvenile justice, child welfare, and special education. The article also includes an outline of a national policy agenda to address this need.

Natural Helpers from the Neighborhood

Lazear, K. & Pires, S.

EQUIPO is an innovative, front-line practice strategy to form professional/natural helper partnerships to support families receiving services from systems of care. The article describes how the program functions in a Latino neighborhood in Miami, and summaries evaluation data for EQUIPO.

Service Access Through Juvenile Courts: Special Challenges for Culturally Competent Systems of Care

Breda, C. S.

This article uses data from a study in Tennessee to explore the complex question of how to identify bias in courts' decisions to refer young offenders to mental health and drug or alcohol treatment. The article concludes with a discussion of the courts' role in combating ethnic bias.

Measuring the Cultural Pulse of Service Providers

Gomez, A.

Findings from a national study using System of Care Practice Review indicate that communities implementing systems of care demonstrate a higher level of cultural competence than have matched comparison sites. Findings also show that families tend to base their ratings of cultural competence on their perceptions of the providers' caring and commitment.

Families and Communities in Evaluation

CrossBear, S.

In this essay, the author argues for greater inclusion of family and community perspectives in the evaluation of programs and services, and describes some necessary first steps.

Working Toward Cultural Competence Through Family Involvement

Ortega, A., Bourne, T., Strnad, C., Rojas, S. & Olayinka, S.

The author, a family member working inside the Minnesota Department of Human Services, describes the specific steps her state has taken to increase the cultural competence by increasing family participation in policy making.

A Community Responds: On the Way Toward Cultural Competence

Arbuckle, M. B.

This article describes some specific, innovative steps that the human service system in Guilford County, North Carolina has taken to increase cultural competence.

Inclusive Child Care: Challenges and Strategies

Brennan, E., Caplan, E. H., Ama, S., Warfield, O. & Bradley, J.

This article presents the results of a research project examining the characteristics of child care programs that have been particularly successful in including children with emotional and behavioral challenges.

Reducing Minority Student Disproportionality in Special Education: Schools and Families Working Together

Woodruff, D.

This article describes how schools, families, and communities can work together to increase cultural competence and reduce minority student disproportionality in special education.

Achieving Cultural Competence Through Organizational Self-Assessment

Tawara, D., Goode, T. D., Jones, W. & Mason, J.

This article describes the School–Wide Positive Behavioral Interventions and Supports system—a decision–making framework that has guided three Washington State high schools in the implementation of three different levels of support for students with emotional and behavioral disabilities.

Measuring Client Perspectives on Cultural Competence

Walker, J. S.

This article describes the development and validation of the Client Cultural Competence Inventory, an instrument designed to assess client and perceptions of mental health services.

Cultural Competence Assessment in Systems of Care: A Concept Mapping Alternative

Davis, T. S., Johnson, T. K., Barraza, F. & Rodriguez, B. A.

This article describes how one community used a concept mapping instrument to assess cultural competence in its system of care and to develop priorities for action. The article also details how the assessment was conducted in a way which was consistent with system of care values.

Caregivers' Perspectives on Cultural Competence

Walker, J. S. & Cook, J.

This article presents findings from research into caregivers' own views about the extent to which services and providers demonstrated respect for their beliefs and values. The study focuses primarily on analyses of caregivers' accounts of specific occasions when they felt their values had, or had not, been respected in service planning and provision.