Focal Point Fall 2001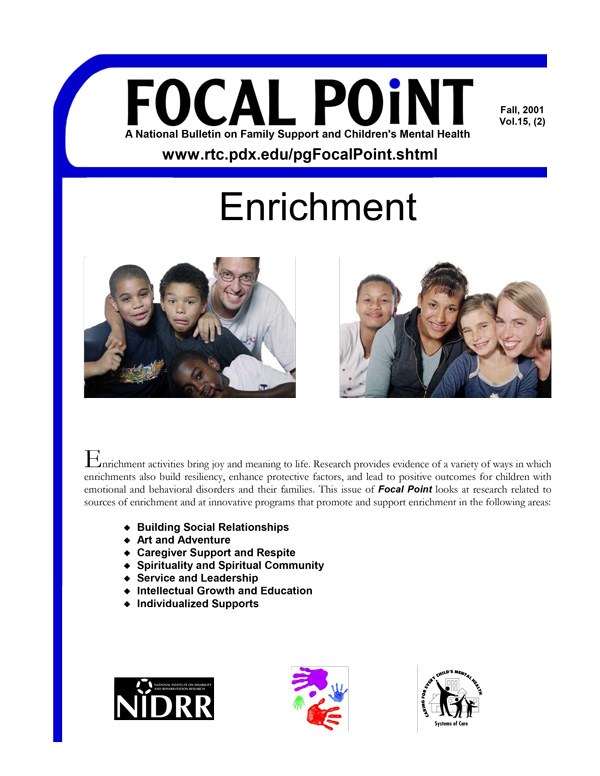 "Enrichment" (2001), v.15(2)
This issue of Focal Point begins from the idea that enrichments, far from being frivolous, are instead essential. The joy and meaningfulness which enrichments provide make a direct, positive contribution to quality of life. What is more, enriching experiences add to our reserves of strength and purpose, and these reserves in turn enable us to adapt, cope, recover and even thrive in the face of challenges and stresses. Specifically, this issue of Focal Point looks at research related to sources of enrichment, and at innovative programs that promote enrichment and achieve positive outcomes for children with emotional and behavioral challenges, and for their families.
Access Articles in this Issue
Introduction: Building Resilience and Enhancing Quality of Life for Children and Families

Friendship Facilitation: Interview with Beth Schaffner of PEAK Parent Center, Inc. on Friendship Facilitation

Cook, J.

An educator and parent of a young adult with disabilities describes her work providing training in friendship facilitation.

Teaching Social Skills to Enrich the Lives of Children and Youth with Emotional and Behavioral Difficulties

McGlynn, M. M. & Rutherfurd, R. B.

Summarizes research on best practices in programs to build the social skills of children with emotional and behavioral disorders.

Summer Opportunities in Socialization: A School District Responds with an S.O.S. for Students in Making the Transition to Middle School

Marshall, M.

This article describes a summer program formulated according to many of the best practices for social skills training. In addition to formal instruction in social skills, program activities include daily community outings and cartooning.

Reading, Writing, Enrichment

Berry, J.

A fifth–grade teacher gives examples of reading and writing activities that are meaningful and rewarding for young people with mental health challenges, as well as for the adults who participate. She also describes a class on "writing from the heart," in which young people produced essays and poetry.

Respite Care for Children with Serious Emotional Disorders and their Families: A Way to Enrich Family Life

Jivanjee, P. & Simpson, J.

The article reviews the benefits of respite care for families who have a child with a serious emotional disorder and provides examples of a range of respite care strategies. From the Research & Training Center.

Support Groups Can Become Social Groups, Too

Berry, J.

Family–run support groups provide a welcome haven for people raising children and youth with emotional and behavioral difficulties. Caregivers are also energized by the empowering effects of feeling included, of being accepted, and of being understood.

Suppers at South

Hogan, S.

In South Eugene High School, parents and their children assemble to share a meal and relax. As they do so, they are also fighting isolation on family, educational, and community levels.

Youth Millennium

Smith, C.

Young people with mental health challenges come together for mutual support, capacity–building, and to make a positive difference in their community through service.

Padres Abriendo Puertas

Castro, B.

Una organizacion de familias hispanas provee un programa exitoso para jovenes Latinos con impedimentos o necesidades especiales. La meta de este programa es el desarrollar las destrezas de liderato de jovenes Latinos, para que aboguen por sus derechos.

Parents Opening Doors

Castro, B.

A Latino advocacy organization hosts a program to increase empowerment and leadership skills among Latino youth with disabilities.

Child Care: Inclusion as Enrichment

Brennan, E.M., Caplan, E., Ama, S. & Warfield, O.

Summarizes research documenting how high-quality inclusive childcare programs are enriched by and enriching for young children with emotional and behavioral challenges. From the Research & Training Center.

Making it Work at the Broken Arrow Clubhouse

Ranson, L.

An essay from an inclusive child care site nominated as a model program.

Alternative Strategies for Success: The Real Meaning of Alternative Education

Schuman, M. F.

An alternative school addresses students' feelings of academic frustration and helps them discover satisfaction, confidence, and pride in meeting academic challenges.

Foster Parents: Mentors, Teachers, Care and Recreation Specialists

Hernandez, T.

Two therapeutic foster care parents play many roles for the children in their care.

And Doggy Too

Vance, J.

A service coordinator helps a terminally ill woman fulfill her plan for her children's future.

An Example of the Power of Mentoring and Wraparound

Hunter, S.

A Wraparound team supports a young woman in her efforts to reach the goals she has set for herself.

Friendship is to People What Sunshine is to Flowers

Griffiths, T.

This piece describes the work of Compeer, an organization that uses mentoring as a strategy to increase resilience among youth and adults with mental illness. The article includes evaluation data.

Friends of the Children

Berman, S., Larkin, A., & Corradine, N.

This article describes the work of Friends of the Children, an organization that provides a child in need with a stable, caring adult mentor.

Facilitating Friendships for Children with Disabilities

Cook, J.

This article reviews research on friendship facilitation and describes materials designed to aid adults in promoting friendships between children with disabilities and their non-disabled peers.

Empowering Kids to Dance to the Drummer Within: Youth Advancement Through Music and Art

Rossi, M.

YATMA is a successful program that works with at–risk youth, using a multi–cultural, arts–based curriculum and a mentoring/relational approach as catalysts for personal and creative growth. The article includes information from case studies and program evaluation.

Healing Through Action

Kidder, B.

A registered drama therapist writes about working with a troupe of adolescent actors performing and conducting workshops in prisons and treatment centers. Includes excerpts from program participants.

The Dance of Life: Incorporating Disabled Children into the Life of the Spiritual Community

King, S. M.

A minister in Columbus, Ohio describes how she turned her church into a place of belonging for all children.

Spirituality and Mental Health: A Native American Perspective

Cross, T.

Among Indian people, there is an almost universal belief in the importance of spirituality and the influence of spiritual forces in the balance of one's life. The author discusses the role of this belief in the achievement and maintenance of mental health.

Community Service Participation as Enrichment: Rationale, Outcomes, and Best Practices

Caplan, E. &=& Schutte, K.

Reviews research on the outcomes for youth—including youth with emotional and behavioral disorders—from participation in community service. The article focuses on principles for designing effective programs. From the Research & Training Center.

Who am I? Why Family Really Matters

Boisvert, B., Brimner, G., Campbell, K., Koenig, D., Rose, J. & Stone-Smith, M.

This article describes the positive results of efforts to reunite children in foster care with their families. It includes a case study, reunification and support strategies, and outcome information.

What an Honor: One Youth in Transition

Rumbaugh, M.

A care coordinator is honored to participate on a wraparound team that supports a young woman's transition from reliance on formal supports to engagement with more informal or natural supports.

Identifying Community Supports: Some Informal Anecdotes

Grealish, M.

Finding supports where you would least expect them.

Friends of the Children

Berman, S.

This article describes an innovative program to provide long–term mentoring to at–risk children. It includes information from program evaluation and stories from a Friend and her youth companion.